Battle Royale: Flick to the Death – Lone Wolf Promo Cards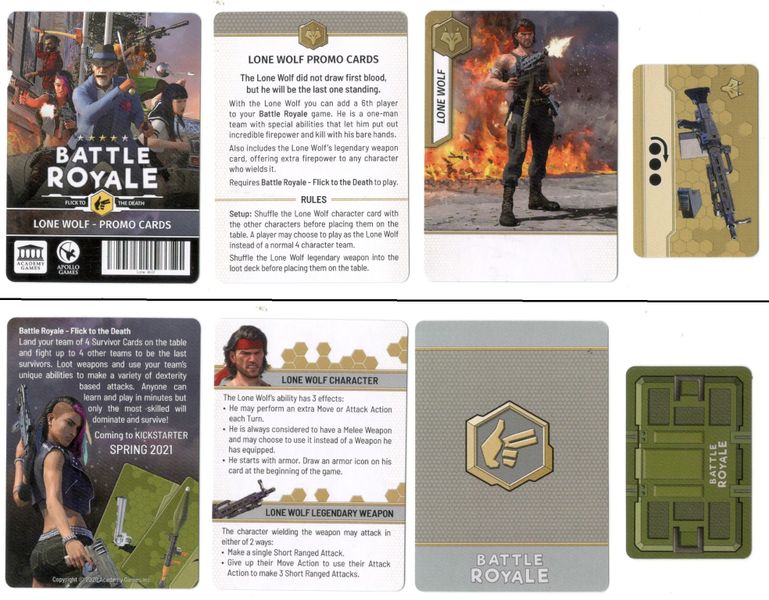 Battle Royale: Flick to the Death – Lone Wolf Promo Cards
Originally available as part of the Dice Tower 2020 Kickstarter campaign.
With this promo, you can add a 6th player to the game.
Setup: Shuffle the Lone Wolf character card with the other characters. A player may choose to play as the Lone Wolf instead of a normal 4 character team.
Shuffle the weapon card into the loot deck.
Lone Wolf's ability has 3 effects:

May perform an extra move or attack action each turn.
Is always considered to have a Melee weapon and may choose to use it instead of a weapon he has equipped.
Starts with armor. Draw an armor icon on his card at the beginning of the game.
Lone Wolf Legendary Weapon:
The character wielding this may attack in either of 2 ways:

Make a single short ranged attack
Give up their move action to use their attack action to make 3 short ranged attacks.
Part of the Dice Tower collection. The majority of the proceeds of this items return to support The Dice Tower.
For more information, please refer to the BGG listing.
In stock, ready to ship

Inventory on the way