Subatomic: Stephen Hawking Promo Cards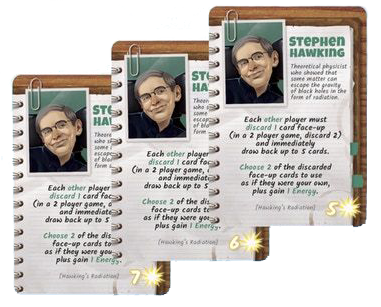 Subatomic: Stephen Hawking Promo Cards
Part of the Dice Tower Kickstarter campaign in 2019.

A set of 3 Stephen Hawking cards for Subatomic. The rules of each card is the same, with values of 7, 6, 5:

Each other player must discard 1 card face-up (in a two-player game, discard 2) and immediately draw back up to 5 cards. 
Choose 3 of the discarded face-up cards to use as if they were your own, plus gain 1 Energy.
For more information, please refer to the BGG listing.
**Note - Part of The Dice Tower collection. 100% of the proceeds of this item return to The Dice Tower **
In stock, ready to ship

Inventory on the way