Star Realms: Security Craft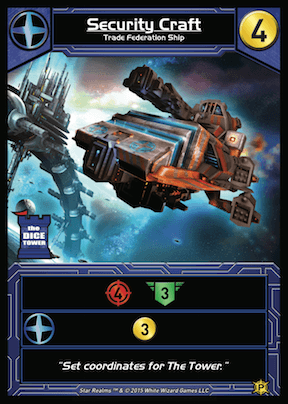 Star Realms: Security Craft
A promo card originally available as a reward through the 2016 Dice Tower Season 12 Kickstarter. This listing is for a single card. This version was printed for BGG and does not include The Dice Tower logo.
Security Craft
Faction: Trade Federation
Cost: 4
Primary Ability: Combat (4) Authority (3)
Ally Ability: (Trade Federation) Trade (3)
A version of this card with alternate art was released in the Star Realms: Promo Pack I.
For more information, visit the BGG listing.
For balanced play, Wize Wizard Games has indicated the following quantity be purchased, based on the 
symbol on the card - 
 - Qty =1; 
 - Qty =2; 
 - Qty =3
Regular price
$300
$3.00
Sale price
$150
$1.50
Save 50%
In stock, ready to ship

Inventory on the way