Rum & Bones: Mercenaries - Zee the Poet Tyrant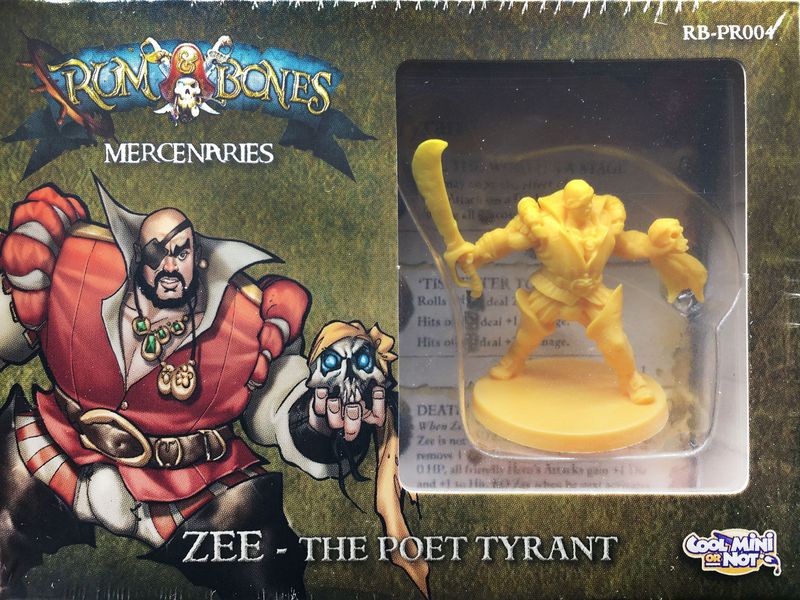 Rum & Bones: Mercenaries - Zee the Poet Tyrant
From the 2016 Dice Tower Kickstarter Promo Pack B.
A transition from stage to the high seas might seem like an unusual career choice, but there's more piracy in acting than one might realize. Both jobs require a certain presence, both require a flair for the dramatic, and both require an encyclopedic knowledge of ropes and rigging (sets don't build themselves, after all). That said, acting doesn't pay the bills (like, ever).
For Zee, the chance to perform his greatest works across the Seven Seas appeared when their troupe was embarked on a voyage to the New World. Their ship came under chase by pirates, who would certainly have taken the hapless merchantman, had not Zee stood upon the taffrail and delivered a glorious ad-hoc discourse on the nobility of all free-thinking peoples in the character of Brutus from Caesar. The pirates, so moved by the amazing performance, threw money, LOTS of money, and offered Zee a job. Zee made his choice, and has never looked back!
For more information, visit the BGG listing.
Part of The Dice Tower collection. The majority of the proceeds of this item return to The Dice Tower.
Regular price
$1500
$15.00
In stock, ready to ship

Inventory on the way