Deep Madness: Magnetic Saw Gun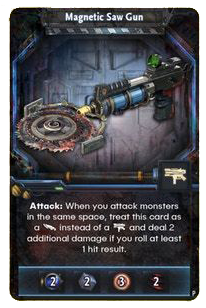 Deep Madness: Magnetic Saw Gun
Originally available as part of Promo Pack C from Dice Tower 2019 Kickstarter Campaign. This listing is for a single card.

Magnetic Saw Gun - a promo search card.
Attack: When you attack monsters in the same space, treat this card as a melee instead of missile and deal 2 additional damage if you roll at least 1 hit result

For more information, please refer to the BGG Listing.
**Note - Part of The Dice Tower collection. The majority of the proceeds of this item return to The Dice Tower **
In stock, ready to ship

Inventory on the way