Sheriff of Nottingham: Royal Jewels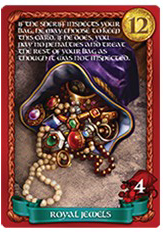 Sheriff of Nottingham: Royal Jewels
Listing is for a single card, Royal Jewels, for use with the 1st edition of the board game Sheriff of Nottingham.
Royal Jewels is a single card worth 12 gold with a penalty of 4.
TEXT - If the Sheriff inspects your bag, he may choose to keep this card. If he does, you pay no penalties and treat the rest of your bag as though it was not inspected.
NOTE - Previously this card was sold as part of the Promo Card Pack and Double Card Pack on the BGG Store, and was also available in Pack B during The Dice Tower's 2017 IndieGoGo campaign. 
For more information, please refer to the BGG listing.
Part of The Dice Tower collection. The majority of the proceeds of this item return directly to The Dice Tower.
In stock, ready to ship

Inventory on the way