Exodus: Proxima Centauri – Ymnighet Mini-Expansion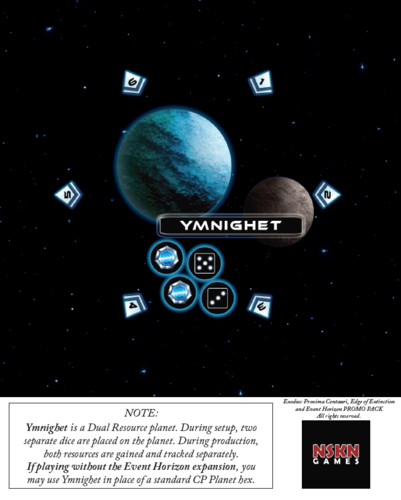 Exodus: Proxima Centauri – Ymnighet Mini-Expansion
This is a planet hex promo tile for Exodus: Proxima Centauri, Edge of Extinction, and Event Horizon.
PROMO RULES:
Ymnighet is a Dual Resource planet. During setup, two separate dice are placed on the planet. During production, both resources are gained and tracked separately.
If playing without the Event Horizon expansion, you may use Ymnighet in place of a standard CP Planet hex.
Special NOTE:  Per the designer in the following BGG thread, this tile has been miscut: https://boardgamegeek.com/image/3815851/exodus-proxima-centauri-ymnighet-mini-expansion  At this time, we have heard no plans to reprint it, so it may be up to you to decide how to handle the points.
For more information, visit the BGG listing.
Regular price
$500
$5.00
Sale price
$250
$2.50
Save 50%
In stock, ready to ship

Inventory on the way