Citrus: New Landscape Tiles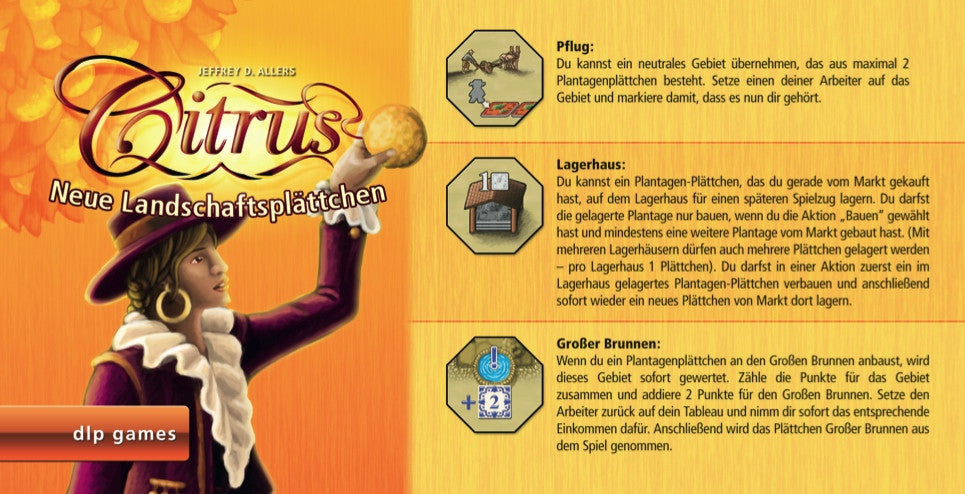 Citrus: New Landscape Tiles
Citrus: Neue Landschaftsplättchen (Citrus: New Landscape Tiles) is a mini-expansion for Citrus that consists of three new Landscape tile types (with three tiles of each type). They are:
• Plow: You can take over a neutral region that is one or two Plantation tiles in size. Place one of your Workers onto the region to show that it now belongs to you.
• Storehouse: You can store one Plantation tile that you just bought from the market to build on a later turn. You may build the Plantation only when you choose the action "Build" and build at least one other Plantation from the market. (With more than one Storehouse, you can store more than one Plantation, with one tile per Storehouse). You may, in the same turn, first build a Plantation tile from your Storehouse and additionally store a new tile from the market.
• Large Well: When you build a Plantation tile adjacent to the Large Well, this region is immediately scored. Count the points for this region and add two more points for the Large Well. Place your Worker back onto your tableau and immediately earn income for it. Then remove the Large Well tile from the game.
The expansion, like the game, is language-independent.
For more information, visit the BGG listing.
Regular price
$500
$5.00
Sale price
$250
$2.50
Save 50%
In stock, ready to ship

Inventory on the way